Orca Msi Include Serial Key
Back to Articles List
How do I use Orca and mst to deploy your products. We have installed Orca and opened up the MSI and then got very lost trying to find which fields I should edit to input the licenses key and user details, can anyone point me in the right direction? The value of KEYDATA is the string that is your serial key. Orca is a tool to edit entries of MSI files. It's very useful to inspect msi files and to make some small changes in msi files (modify or add table rows). Run Orca tool and open the MSI package of the setup project demo we made it before 'SetupDemo.msi'. Select Binary table from the left panel and from the context menu select Add Row, name the new row ' CheckPIDDll ' and set the data value to the path of the validation library (either Delphi or C++ version).
Symptoms
I want to customise an MSI install without using a command line set of options.
Cause
Command line switches may not be an option for your installation scenario. Publishing or Assigning software through an Active Directory Group Policy for example does not allow the use of command line options.
Resolution
Orca Msi Include Serial Key West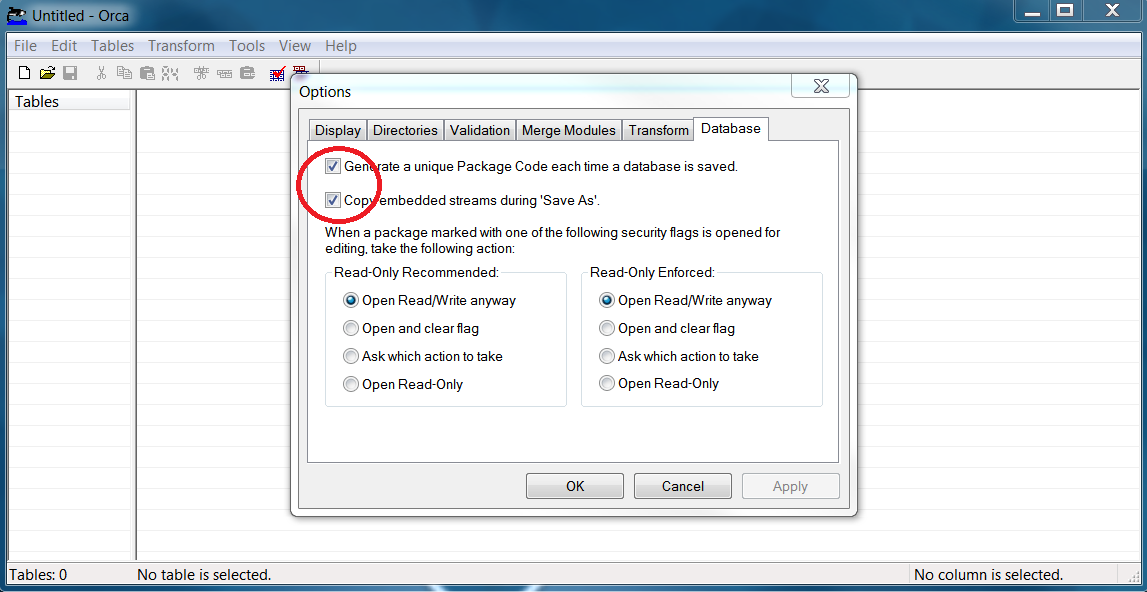 A transform file can be used to define the changes you wish to make to an MSI installer. A transform file is the preferred method for Publishing or Assigning software through an Active Directory Group Policy and Microsoft provide a tool, Orca.exe, to do this.
How to use the Orca database editor to edit Windows Installer files.: http://support.microsoft.com/kb/255905
MSDN page on Orca.exe.: http://msdn.microsoft.com/en-us/library/aa370557(v=vs.85).aspx
Unsing the first link above you can find how to get Orca from the Windows Installer SDK.
Create a Transform
In this example I will use the Editor MSI. Launch Orca.exe and load the MSI file you wish to modify.:
File --> Open --> PDFXC5_x64.msi
You are creating a new transform so:
Transform --> New Transform
The available features in the MSI are found in the Feature Table, selecct it from the list of Tables on the left:
Features are nested with a Parent/Child relationship and as with command line switches for a child feature to be installed the Parent feature must be installed. We are interested here in the feature to be installed and the the Level. Level dictates if the specified feature is to be installed, a value of 1 means to install, a value of 0 means do not install. Notice that these are exactly the same as the command line arguements used with the installers. See here for details on using command line arguements: KB#461 Because all features are installed by default, to not install a feature is as simple as changing the Level value to 0.
The other table where you can make changes is the Property Table. Here you can change the default values for preferences or include a license key (string or path to xcvault file). A numeric value of 1 equates to 'True' and 0 'False'. In the example below I have set a path to an xcvault KeyFile, set VIEW_IN_BROWSERS to false leaving SET_AS_DEFAULT true and changed the EDITOR_LANGUAGE to German. See the MSI installer help pages for the MSI you are using at http://help.tracker-software.com for details on the values used for EDITOR_LANGUAGE.
Values that are changed are highlighted in Green. Once you are happy with the changes you need to generate a transform file that can then be used in conjunction with the MSI file to apply the differences. Transform --> Generate Transform You will be prompted to save it as an mst file:
Microsoft office excel 2007 download. After you install with these keys, you have 30 days to use MS office 2007. To buy product key you visit TT3M8-H3469-V89G6-8FWK7-D3Q9Q FHH8R-7WC4H-BH696-VBV6D-VCBMB TBMFM-QXMQX-G8FVP-BFH9J-X9PHM QG7TR-DHG94-W2YKQ-MY6VK-PK9QY RHT43-PDJWT-JMKPB-8WTW7-WWG3Y VB48G-H6VK9-WJ93D-9R6RM-VP7GT HCFPT-K86VV-DCKH3-87CCR-FM6HW HCFPT-K86VV-DCKH3-87CCR-FM6HW G333X-86T9C-P92KX-M4P67-4PWYT I hope you will find right product key for your Microsoft Office 2007.
Using the transform during deployment.
Now that you have a Transform File, applying it during installation is as simple as :
msiexec /i 'pathtoPDFXC5Pro_x64.msi' TRANSFORMS='pathtotransform.mst'
Further reading on applying Transforms can be found here: http://technet.microsoft.com/en-ca/library/cc759262(v=ws.10).aspx#BKMK_InstallTransform
alternatively the transform can be applied to a Group Policy deployment: KB#373
Related: KB#494
Thanks for your feedback!
Posted by
1 year ago
Edit:
Solved guys, thanks!
Hey,
So we have this program called WinForms Suite by Janus.
Their support doesn't exist, and the forums are dead, so I figured I'll try to get some help from you guys.
When I type Winforms.exe /? I get all the switches I need. The quiet installation is there and even the /extract which gives me the msi file I can run in SCCM.
The thing is, we have a serial key which is required during the installation of the program. People need to enter in manually and I find it kinda stupid so I would like to simply create a package/application in SCCM to deploy this with the key already in it.
I had programs in the past that also required a serial number during the installation, so their trick was to put the .msi file in the same folder with SN.txt (this file had the serial key). This would automatically add the key during the installation which is cool. I don't think this is the case with Janus WinForms Suite.
I would like to know if there is a way for me to pinpoint exactly when it asks for a key during the installation, and somehow automate the serial implementation.
Thanks
Edit:
Thanks for the help, I used Orca to edit the MSI.
I searched for keywords like serial, key, product key, but eventually found it's PID (product ID, i think?).
Anyway, I found this but it wasn't it. Instead I edited the PID template, as so, and the result is that there is no text box to enter the key. Just my key, inserted, unable to edit it or anything. This isn't exactly correct but hey, it works :)
Thanks for the help! Installation went through just fine and activated.